Visualization is fundamental to data analysis. A good visualization allows to present a magnitude of data in a simple and concise manner. Visualization can be done with graphs, diagrams, images, or via software applications that provide navigation through the data.
Enriched Scatterplot
A scatterplot (or scattergram) represents the size and intensity of a cell population. Cells that are "different" from the others, are defined as outliers and circled in red. The black rectangle is a "boxplot" centered around the medians. The green curve is positioned at the most dense area of the scatterplot, and contains 50% of the cells.
Dynamic histogram for selection of data
The graph represents the histogram of intensities of the cell population. By clicking on a bar in the histogram, the user selects all cells belonging to the interval of the bar. The selected cells are shown in red, while the others are blue.
Color deconvolution of histological images and natural stains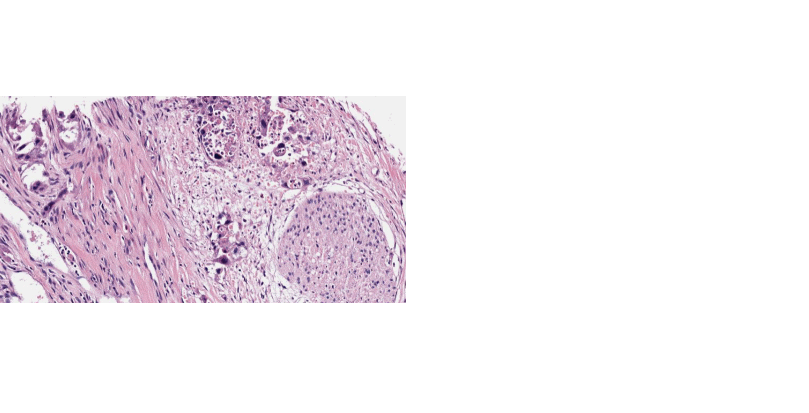 Color deconvolution allows to separate original color shades in the original image. The image on the left represents a hematoxyline (blue) and eosin (pink) stained tissue section of the pancreas. The deconvolution operation renders one image per color shade, as presented in the images to the right. The histogram shows the most representative combinations of blue and pink. The color contribution of those combinations is represented by level lines
Brain tissue section and specific segmentation of neurons and astroglia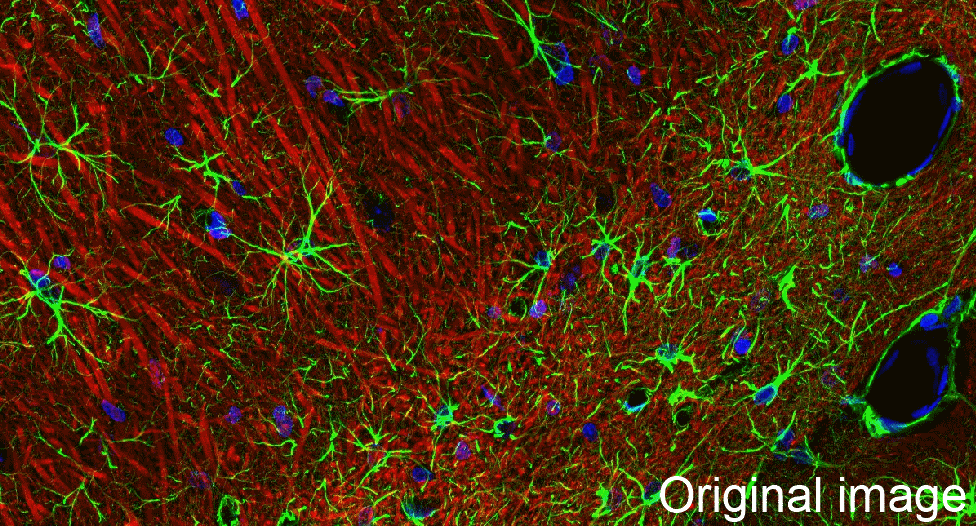 This confocal image (Leica SP5 63x) represents multipolar neurons (red), glial cells (green) and their nuclei (blue). The various components of the image are automatically detected and saved as separate images for each color. The superimposed image (blue + red + green signal) visualizes all elements and their interaction.
License : http://creativecommons.org/licenses/by/3.0/
Original image from Christopher Wallace, Ginger Withers and Tony Cooke (CC Attribution Only).
Visualization of heterogeneous data by merging microarray data with public databases
The microarray resulting data are displayed to the left. The user selects a gene of interest (MAP4K3, then MAP3K1) and the public data (GeneCard, GO, Protein Atlas) appear in the window to the right, such that the user information can be merged with public information. Similarly, the interactome of MAP4K3 is displayed in the window to the right, and all genes of the interactome of the microarray results are selected. The obtained visualization allows users to precisely analyze their results without the need to search various websites for information. This saves an important amount of time. This type of visualization has to be created specifically for every experiment, to gather the most relevant information.
To see more…
Quantitative 3D histology

Histological images are typically represented in 2D. By numbering the sequential sections through a paraffin, epoxy or frozen block, we can reconstruct volumes for the measurement and visualization of signals in three dimensions. To see more…
We are at your disposal to offer you a custom solution for your specific needs